Dedication Plaques
Dedication plaques are traditional metal markers that acknowledge donors, distinguish important projects, mark historic accomplishments and honor loved ones.
DONOR RECOGNITION PLAQUES
Recognizing the gifts of generous donors through the use of dedication plaques is a long lasting way to display gratitude and promote long-term fundraising campaigns. Donor plaques can be created as large-scale wall installations for larger recognition projects or as individual plaques as a free standing display of thanks. Whether these recognition projects are simple or complex in design, donor tributes can be broken down into two major categories.
Perpetual Donor Plaques
Perpetual plaques are created to enable the addition of new names to a dedication project over time. This option is perfect for ongoing donor campaigns where the list of contributors grows annually. Some perpetual donor projects use two to three different metal colors to represent different levels of contribution. Donor names are engraved on individual name plates that are attached to a larger title plaque.
Integral Donor Plaques
Integral plaques are created in one piece and are used for static lists of donors that will not be added to as time goes on. Integral plaques are often limited to a unique fundraising project or group together donors that contributed in a specific month, year or financial level. These plaque do not incorporate etched name plates, as the list of names is finalized before production and will not change.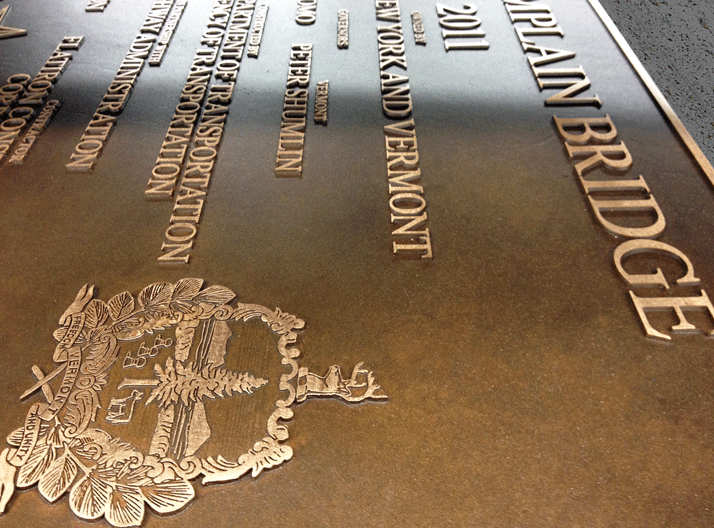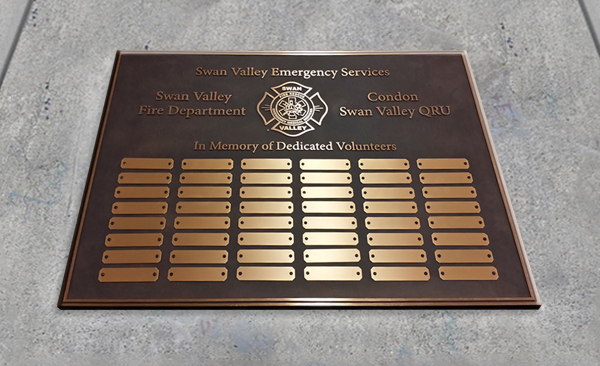 BUILDING DEDICATIONS & BRIDGE CONSTRUCTION PLAQUES
Dedication plaques celebrate the opening of a new facility, the restoration of a historic building, the construction of a bridge and more. Teams of engineers, architects, designers and contractors work together to complete large-scale construction projects, and their hard work is remembered through the placement of a dedication plaque. These plaques are typically created in cast bronze and include the name of the project and a list of the major players who contributed to its completion.
MEMORIAL PLAQUES
Remembering loved ones through the use of a commemorative memorial plaque is a special way to honor those who are no longer with us. While our studio does not create memorial plaques for use in cemeteries, we can create privately purchased plaques for a commemorative garden, home, school or plaza. Our memorial plaques can also feature hand-­carved or photographic portraits for an additional way to memorialize a loved one or colleague.
NATIONAL REGISTER PLAQUES
The Natural Historic Preservation Act establishes the parameters in which individuals can identify, register and protect significant properties throughout the country. Many of these locations are identified through the use of traditional cast bronze or painted aluminum plaques, which we can provide at our studio. These commemorative plaques allow passersby a glimpse into the unique histories of historic properties and locations. These plaques can include significant information about the property or simply mark the location as an official landmark. Our decorative borders and background textures are used to distinguish national register plaques from standard plaque projects.